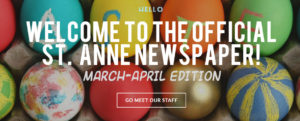 Good news – the SPRING EDITION of
St. Anne Newspaper (online) is now available!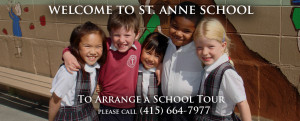 St. Anne has much to offer your child, whether you're seeking a preschool, elementary, or middle school. One of the best ways to learn about St. Anne is to simply take a tour. We offer regularly scheduled tours throughout the year. Discover for yourself why St. Anne is an excellent choice for your child.
You will be greeted by a friendly representative (either school staff or parent volunteer) who will walk you through our classrooms and school facilities while answering any questions you may have.
Tours are from 9:00 a.m. to 10:30 a.m.
2017 School Tour Schedule
January 5 and 19, 2017
February 8 and 24
March 7 and 22
April 5
May 12
To attend one of these tours, please R.S.V.P.
St. Anne School Office (415) 664-7977
Download Tour Schedule: 2016-2017-tour-schedule
St. Anne School will continue the successful and popular Robotics program this year as part of our implementation of  the Science, Technology, Engineering, and Math (STEM) initiative.
The Robotics Program is a club where junior high students work together to build complex machines using block coding.
https://stanne.com/wp-content/uploads/2019/11/robotics-club-poster-2019.pdf